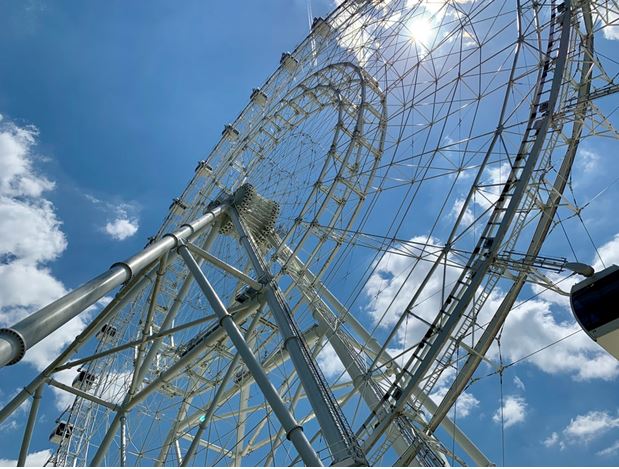 Springtime is the best time to visit Orlando.
Whether you've already booked a vacation rental in Orlando or are still deciding where you want to go for your vacation, we've got a list of the best activities to do in Orlando to help you narrow down your decision!
ICON Park
Experience Orlando like never before by taking a ride on top of ICON. With the ICON Wheel, you'll be transported 400 feet above the ground, viewing the city in a completely different light!
With 30 high-tech pods, you'll be able to view the cityscape like never before.
These unconventional pods have interactive technology, so you can learn about the city in a completely unique way!
A once in a lifetime experience, the ICON Wheel offers an 18-minute ride that'll completely change your perspective on the city.
After the ride, you can spend the rest of your day exploring the multitude of restaurants, shops, and activities that ICON has to offer.
Kennedy Space Center
If you're on vacation with your family, visiting the Kennedy Space Center is sure to be a highlight of your trip.
A massive complex, the Kennedy Space Center features a host of astronaut and space-themed activities.
Educational, interactive, and engaging, you can get a chance to meet veteran astronauts, scope out massive launch rockers, and visit actual launch areas.
The Kennedy Space Center also offers genuine space flight simulators, with numerous IMAX shows for the whole family to enjoy.
Gatorland
Gatorland is a fun place to visit with friends and family alike. An outdoor attraction, Spring is the best time to see the crocs go at it! A one-of-a-kind gator park, Gatorland is 110 acres of a theme park and wildlife preserve.
Open seven days a week, you can go on a nature walk, go zip lining, watch a gator performance, pay a visit to the petting zoo, and learn something while you're at it!
Are you looking for luxury rentals for your springtime vacation to Orlando? At Blue Travel, we've got affordable short-term luxury vacation rentals in Orlando, FL.
Our vacation home and resort rentals are located near Disney, with upscale pools, walking trails, and fitness facilities!
Contact us at +1 407 250 4850 for more information, and make your next trip to Florida unforgettable.