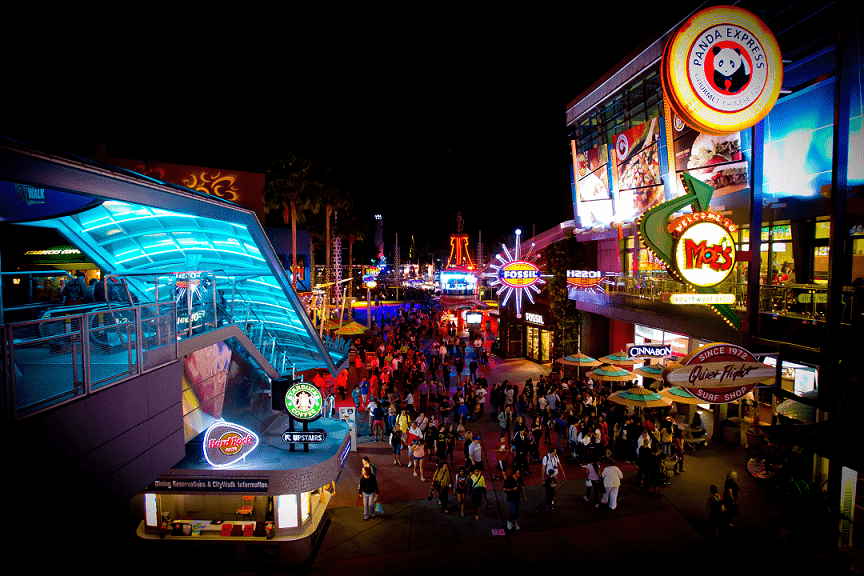 Primarily known for Disneyworld and Universal, the city of theme parks is often overlooked when it comes to looking for a place to vacation that has a robust, energetic, and eventful nightlife.
If you're planning a vacation to Orlando with some of your best friends, take a look at some of the biggest attractions that the city has to offer so you can truly immerse yourself in the wondrous nightlife of the city!
Universal CityWalk
Universal attracts a huge crowd of vacationers to Orlando. With a high influx of people coming from all over the world, Universal makes sure it keeps everyone entertained with its array of activities.
While the theme park closes around 8pm, the CityWalk is open for business even after midnight. Visitors can easily go to live shows, drink in fancy bars, and eat at the best restaurants on Universal Boulevard under the starry blue sky.
Improv comedy club
If you and your friends love a good late-night comedy show, Orlando is the place to be.
The comedy club situated at International Drive is the perfect way to spend the night laughing your guts out with the people you love. The place has offered a stage to legends like Robin Williams and Jerry Seinfeld, too!
Clubs near Lake Eola
Sometimes all you want to do on vacation is get drunk, hit the streets, and find the best night club in the area to dance the night away under glinting neon lights.
If you truly want to embrace Orlando's nigh culture with loud music where the beats automatically make your feet sway, the night clubs near Lake Eola are a must-try! This is also one of the best spots in the city if you want to see the sunset over blue waters. Make sure you try out the Vain Club and the Beacham.
The Wall Street Plaza
As the essence of Orlando's nightlife, Wall Street truly packs a punch owing to all the great things it has to offer. From lively restaurants to huge bars where local and international artists can perform live, the Wall Street Plaza is the place to be if it's well past midnight.
So, grab your friends and head over to Hooch to drink your heart out during the late-night happy hour!
Cirque du Soleil
Are you looking for an action-packed night that's filled with live performances to leave you flabbergasted? Cirque de Soleil is your kind of place to be!
The breathtaking architectural foliage, combined with the creative and artistic shows is a treat for your eyes. Don't forget to book your tickets for a spectacular feat of acrobatics!
If you've made up your mind about vacationing in Orlando, book a vacation rental for your stay in the city.
Blue Travel offers luxury vacation homes and vacation houses in Orlando. We offer packages and discounts to help you find the perfect place to stay on your vacation with friends. Browse through our resorts and book your favorite vacation home by calling us at +1 407 250 4850.