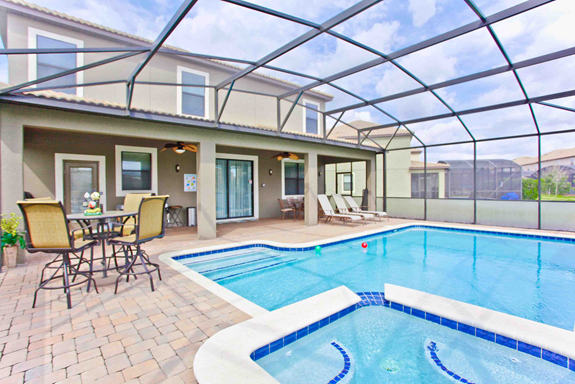 Disney World is one of the most incredible locations in the world, and it's made even better when you have some of your favorite people by your side.
It's best explored and enjoyed with friends and family who make the experience all the more worthwhile and memorable.
Some of the reasons why it's so great to plan your trip with loved ones are sentimental, while others are practical.
Let's take a look at some of them:
It's easier to book a vacation home together
We might be a little biased here, but there's no way you'd want to miss out on the chance to stay in our luxury vacation home near Disney, would you?
With a swimming pool, home entertainment, luxurious and spacious bedrooms, multiple bathrooms, and close proximity to Disney World, these vacation rentals are a dream come true for travelers!
Since they're best suited to larger groups, we canbeasily accommodate up to 12 guests, and that means you and your BFFs, siblings, parents, kids, cousins, or whoever you're with, can be in the same place.
It'll be the ideal family vacation as you get space and time to hang out and bond outside of parks, restaurants, and Disney World too!
You can save up on a lot of costs and expenses
Not to mention the power of numbers allows you to get in on a lot of sweet deals. You can lower the cost of accommodation by splitting that amongst the group, as well as get group discounts at local restaurants, tourist sites, transport, and more.
It also helps to have a place of your own where you can cook and eat, and thus save on the cost of eating out daily.
Disney World has friends and family perks for you
Disney World allows groups to join a friend and family app so you can connect, make reservations, track each other, and stay up to date around the park without worrying about getting lost.
From dining out at the restaurants to getting fast-passes and much more, the app gives you plenty of options to try.
You can enjoy more age-based activities too
If you have multi-generational members in the group, it's easier to split up into age-based groups and activities.
As teens and older kids can get to the more thrilling rides, younger children and a few adults to supervise can head in another direction, while grandparents and older adults can focus on other activities.
You cover more ground without waiting for each other and wasting time. It's a win-win strategy. And you can also swap rides with other parents in your group, so nobody has to forgo their share of the fun.
All in all, there's no single reason why Disney is best enjoyed with your loved ones around. It's the perfect place to make tons of memories that you will cherish and hold onto forever!