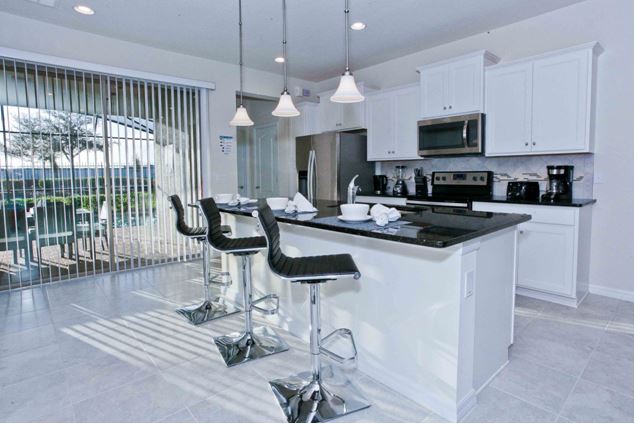 Disney World is famous for its incredible range of snacks and foods, from the iconic soft-serve to their berry-waffles, and everything in between.
You'll be stoked for choice with each visit and find it impossibly difficult to narrow down your favorite foods and must-haves and forgo the rest.
But with that being said, it's impossible to stay within a set budget (unless it's a big one) while eating at Disney.
What with the hefty prices and the COVID-19 outbreak, it might be in your best interest to take your own snacks and foods with you.
Fortunately, Dinsey World allows a range of snacks and non-alcoholic beverages into the park, as long as there are no glass containers and bottles with you.
When you stay with us at our luxury vacation rentals near Disney, you can use our kitchens to make and pack delicious and filling foods. Here are some tips for you to follow:
Eat a healthy breakfast before you leave.
Take advantage of having a private kitchen in your Orlando vacation home, where you can whip up healthy breakfast options like oatmeal, eggs, or even treat yourself to pancakes and whipped cream. Whatever you choose, fill up to fuel yourself for the day.
Pack a combination of nuts and dried fruits
Nuts and dried fruits are great sources of energy and tons of nutrients. They're also easy to pop on the go, as you eat a handful for a quick burst of energy and strength. Get nutrient-dense options, such as almonds, walnuts, etc.
Keep fresh fruits and sealed juices.
While you need to be selective about the kind of fruit you take, and how you store it, it's always a great option to pack fresh fruits and juices for the way.
You can slice up apples, oranges, cubed mangos, toss in some strawberries and create a fruit salad or little containers with separates. Be sure to avoid watery, overly juicy options, and keep them peeled and cut for easy access.
You can also make juice or buy healthy varieties on your way over—just make sure bottles are sealed and good to go.
Keep chips, pretzels, and crackers.
It's hard to say no to delicious savory snacks like pretzels, tortillas, potato chips, and crackers when you're on a picnic. Perfect for a quick, salty, or spicy munch, these can be kept in their original bags or stored in smaller plastic containers. Make sure the containers you use are airtight, so they remain crunchy!
Make sandwiches with your favorite fillings.
If you're going to spend all day in the park, just finger foods and snacks won't cut it.
You can make homemade burgers, wraps, sandwiches with fresh veggies, your favorite meats, and a couple of sauces.
Prepare them in advance, pack them up the night and tight, and eat them as a mid-afternoon meal.
Another pro-tip would be to take reusable water bottles that you can fill through the day and save hundreds of dollars per travel group on food and beverages. For more tips, tricks, and advice, head to our other blog posts.
You can also get in touch with us to book our premium properties near Disney for your next great vacation.