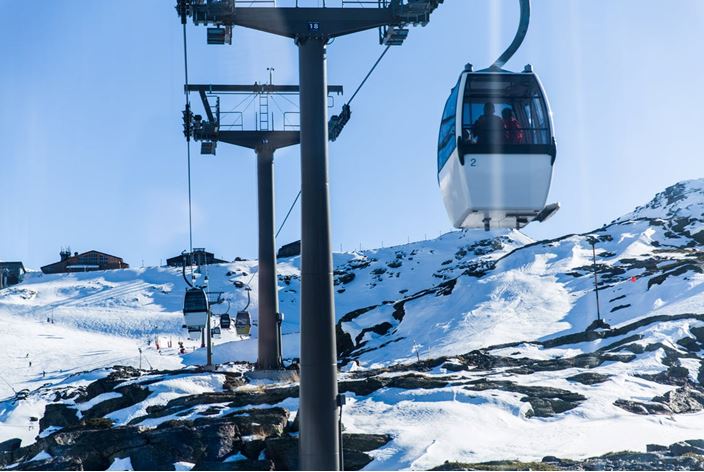 While Disney world doesn't have extremely high roller coasters like many other theme parks do, they do have several rides and places to be careful of or avoid if you are deathly afraid of heights.
You probably know of a few attractions to avoid, but we've got a few unexpected things on this list, so take a deep calming breath and take a look:
1. Skyliner
If you've been debating taking flight on Disney World's newest form of transportation, the Skyliner Gondola System, you might want to think twice if you're height averse.
Skyliner travels up to heights of sixty feet, and if that's not scary enough, you'll be watching the world fly by through floor-to-ceiling windows on both ends of the gondola.
Views include the skyline of Caribbean beach resorts, the expansive hourglass lake, the parking lot at Disney's Hollywood Studios, and tons of treetops. And remember, if it's a windy day, you'll definitely feel that on the Skyliner as well.
2. Tower of Terror
This Disney Hollywood studio's ride is probably the biggest fear for many people.
The elevator ride takes you up many stories and suddenly drops. The ride can affect your perception of being very high, so if it's hard for you to separate perception from reality, this could be your worst nightmare coming true.
Also, the window at the top of the tower does open once you reach it, and you get to see just how high off the ground you really are.
3. Aerophile
Aerophile is the giant hot-air balloon you see floating above Disney Springs. The balloon is beautiful in shades of blue and red and flies up to heights of 400 feet to get unique views of Disney Springs.
However, as stunning as the views may be, the 400 feet can be pretty terrifying.
So if there's something about the perceived fragility of a massive balloon like this one that gives you the terrors, you might want to steer clear of this particular experience.
4. Summit Plummet
Summit Plummet in Blizzard Beach is by far the scariest for most Disney World guests. The drop on this beast is straight down at a nearly ninety-degree angle.
You'll feel like you're free-falling the whole way. And if that wasn't scary enough, the fall is as low as twelve stories down.
So, it's you in your bathing suit on a narrow, steep slide, for over a hundred feet straight down— are you sure you want to be in that position?
Rental Vacation Homes near Disney World, Orlando
If you're looking for safe, grounded place to stay in Orlando, we have the perfect vacation homes in store for you.
Rent our luxury vacation homes near Disney World the next time you're in the Sunshine State.
We provide various amenities and in-house activities to do while your friends and family are out enjoying those high, scary rides! Visit our website or get in touch with our agent for more information.